Mycryptoheroes (MCH) which is Japanese blockchain gaming is having a crowd sale.
In cloud sale, 50% of the ETH that used for hero purchase will be cashed back with GUM in the game currency. I recommend this crowd sale it to those who participate in the game. (GUM is a money in MCH.)
What is Mycryptohearos?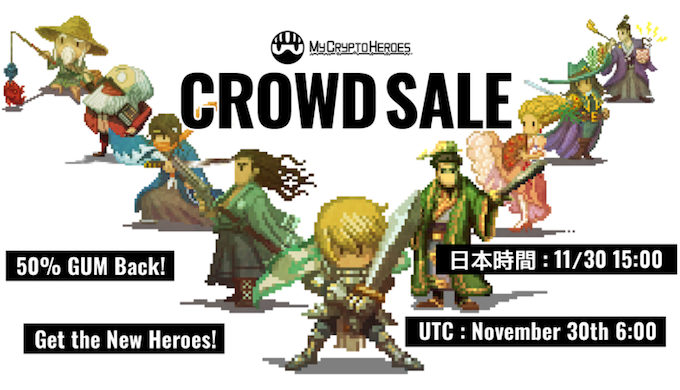 MCH is a battle game by collecting historical heroes of the world.
For the battle, it is necessary to make a team with three heroes. 
Heroes are stored in a blockchain and can be traded freely.
Heroes can equip 'Extensions' (weapon, armor and so on) and be changed the picture design called 'Art Edit' to change stats.
If you owned a territory called ' land', you can earn income.
At first, I will introduce about games simply.
The main contents are to collect historical heroes, grow and battle. Simply raising the level would not win. It is a wonderful game balance that you can defeat stronger opponent depending on team composition and extension.
Taking advantage of the characteristics of the blockchain, heroes in the game are tradable freely between players, or income is obtained if you own the territory.
In this crowd sale, you can purchase heroes and use them in the game.
When crowd sale has been started and ended?
The period of crowd sale is from 15:00 on November 30 14:59 on December 10 in Japan time.

Inventory is limited to heroes sold in crowd sale, and there is no resale. Also, in order to keep the value of the crowd sale heroes, it is announced that simple upward compatibility heroes will not be sold never after.
Mycryptheroes Sale Price and Sale Rules
In crowd sale, prices gradually decline over time and prices rise each time someone purchases.
The hero's price declined to half of the start price over time.
When someone buys a hero, the price of the next hero will rise. It will repeat until the stock runs out.
The rise in price increases as the number of stocks decreases, and it rises up to 100% at once.
In the case of simultaneous bidding, the one previously recorded in the blockchain has priority.
According to the past case price fluctuations would be as follows.
After the start, price rises at a stretch immediately.
There is a wait-and-see period for a while, the price stabilizes as small selling.
Just before the end of sale or selling out Immediately rise again.
In conclusion, it is easier to purchase cheaply with the start dash.
The selling price at sale start is set by the hero's rarity.
Legendary: 4 ETH
Epic: 0.2 ETH
Rare: 0.05 ETH
Because it is not a cheap price, I don't recommend to purchase in a hurry when the price is rising. Please decide the budget and buy it.
50% of the purchase price is cashed back as the in-game currency GUM. So if you plan buying assets, it is a good opportunity.
Can you trust Mycryptheroes' crowd sale?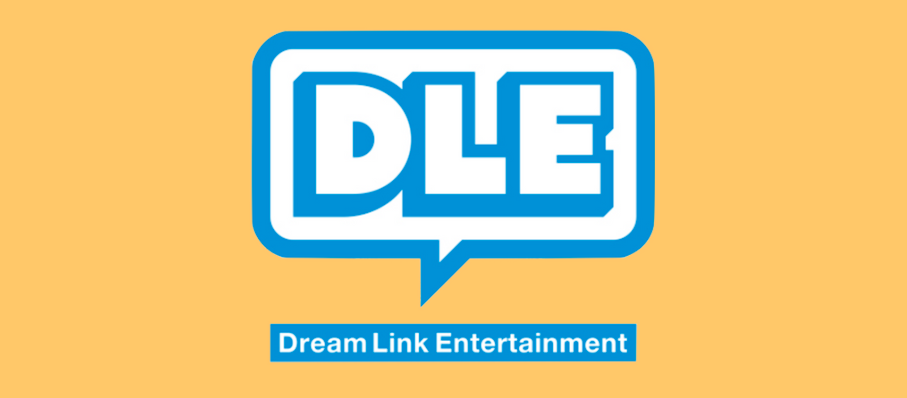 My Crypt Heroes is a blockchain game produced by "double jump.tokyo" of DLE group which is a Japanese listed company. Unfortunately, some dishonest games gather money at the sale and run away. However, this game is very safe as it is operated by a group company of listed companies.
Since this game has already been launched, you can play as soon as you buy an asset. There will be no garbage before you play by using the asset.
Heroes lineup of crowd sale
Legendary Heroes


King Arthur
Joan of Arc
Ryoma Sakamoto
Liu Bei
Albert Einstein
You can see their skills: Details of Crowd Sale Heroes ~Legendary~
The Legendary Heroes are high-performance heroes that overwhelm others with both stats and skill. The level cap is set higher than the other heroes, and the difference comes out in higher level the game.
Because skills and status are powerful, we can proceed quickly and they are definitely advantageous even for PvP it will be implemented in the future. There is no choice not to buy if aiming at top rank. The price is also set high, and the number of sales is the least as well.
Number of sales: 5 Heroes x 20
Start price:4ETH
Epic Heroes


Wang Ki
Karl Marx
Soji Okita
Pyotr Tchaikovsky
Marie Antoinette
You can see their skills: Details of Crowd Sale Heroes ~Epic~
They are strong Heroes after the Legendaries. Epic Heroes don't have a sharp skill but are a utility. It is expected to sell quickly because it is a reasonable price.
Number of sales: 5 Heroes x 100
Start price:0.2ETH
Rare Heroes

Emperor Nero
Michel Nostradamus
Jiang Ziya
Gennai Hiraga
D'Artagnan
You can see their skills: Details of Crowd Sale Heroes ~Rare~
"D'Artagnan" who wrested in beta version is sold! The opening 10% up buff was super strong. The rare heroes are also good usability. If you consider extensions and skills, you can win even an opponent is an epic team.
I will recommend Rare heroes to those who want to save the investment and win with the strategy with a cheap hero. Rare heroes also have sufficient performance to pass quests, so I also recommended for light to middle users.
Recommended Heroes in the crowd sale
Joan of Arc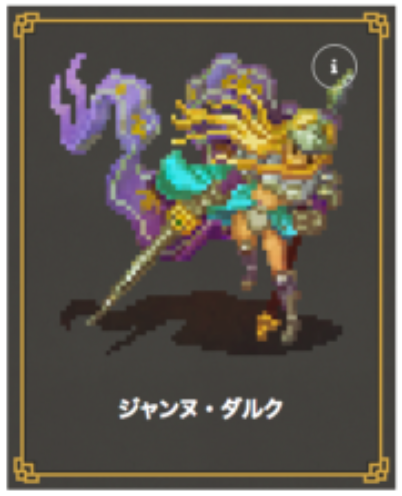 In the pre-sale, the only female character "Nightingale" was very popular. The price went from the start 0.1 ETH to the maximum 6 ETH. Joan of Arc is becoming the most popular hero in this crowd sale. Although the start was 4 ETH, it is already over 10 ETH.
Wang Ki
Power type. As Mycryptheroes' battle receives damage from a front hero, the better the shield role is, the better the battle can proceed favorably.
Wang Ki's skill is to make the PHY of the next hero up by 50% when he dies. He is the best frontman of the epic hero because of his excellent stats and skill.
D'Artagnan(Resale, For play, Buffer)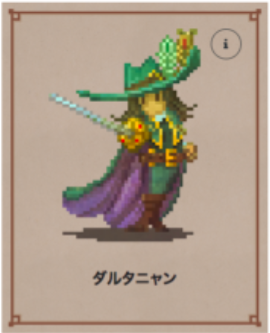 "D'Artagnan" who wrested in the beta test. I think that there are many players who struggled with this game. Although the skill has been fixed, "Stats 10% up at the start of the battle" has become. But this still is easy to match any party in the rare hero.
I recommend D'Artagnan for both resale and play.
MyCryptHeroes crowd sale Frequently Asked Questions and Trouble
What is ETH (Ethereum) to buy a hero?

It is cryptocurrency. Let's buy it at the exchange.
Ethereum is a so-called cryptocurrency. We use ETH to play blockchain games.
You can purchase at cryptocurrency exchanges and you have to move to a Wallet (an application for saving cryptocurrency and playing browser game) like METAMASK or TRUST before playing the game.
I should have bought a hero but it does not arrive or I can not buy it.
There is a possibility that someone bought it before you.
The purchase of assets (assets) in the blockchain game is the first serve. The transaction written first in the blockchain will be active.The selling price of Mycryptheroes' sale will rise when hero sells. As a result, a player who purchased later will fail to purchase due to lack of money. Don't worry. The ETH paid will not disappear at the time of purchase failure.
Are there any technics to buy a hero?
Let's set the gas fee higher.
The order of priority for writing to the blockchain of the Ethereum is decided by the commission "gas fee" because it is handled preferentially from transactions that paid high fees. Please note that if you make your gas bill too high, you will be wasting the transaction fee as much.
Estimated price can be confirmed with ethergasstation. You can access it and refer to gas price written as "Fast". If seriously aiming, it may be good as twice amount of Fast.
How do you resell a hero?
You can use the in-game market and external market OpenSea.
In Mycryptheroes, a marketplace will be set up in the game. You can sell the hero here and get the GUM which is the in-game currency. If you want to sell a hero and earn ETH, you need to use OpenSea, an external exchanger. 
Join the crowd sale and get powerful heroes!

I summarized the crowd sale of Mycryptheroes. As a block chain game, you can expect to be a game with considerably high quality. In order to advance the game advantageously, let's join the cloud sale even if it aims to earn a little with resale!
As a blockchain game, Mycryptoheroes can be expected to be a game with considerably high quality. In order to advance the game and earn some ETH by resale, let's join the crowd sale!